IMDB plugin for your WordPress website that can leech and get any movie information from IMDB database with more easily their title, description, rating, year and other important tags.
IMDB Connector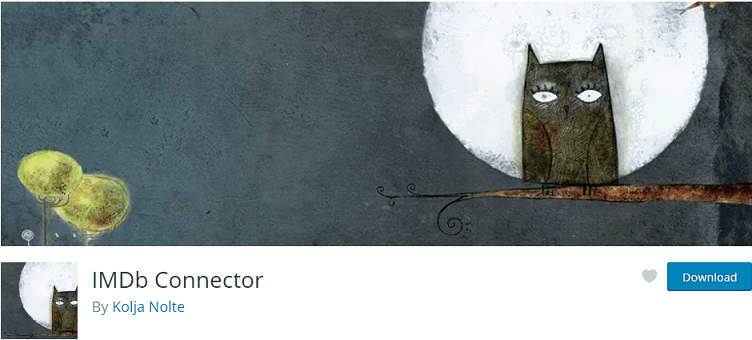 IMDb Connector is a simple plugin that allows you to easily access the IMDb.com database through the API provided by omdbapi.com and get details for a specific movie.
IMDBi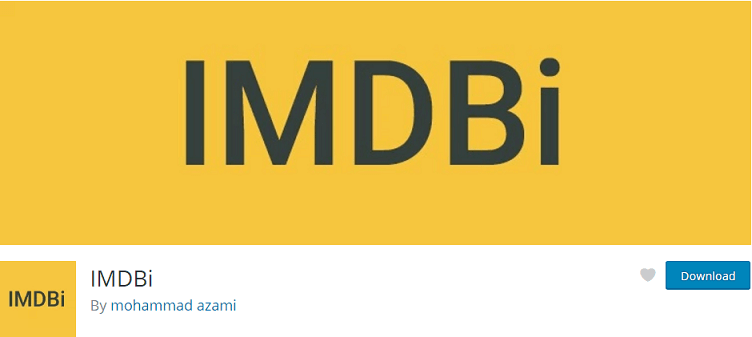 With this plugin installed, you could get information about movies / series you want, and use them in your posts by shortcodes or in your own template using functions. Note that this plugin doesn't have any templates packed in, you have to create a template.
IMDb Markup Syntax

Add IMDb syntax functionallity in your post. Enter simple tags and this plugin replace with IMBb data direct from IMDb Mobile Applications.
IMDB Info Box

Display movie information from IMDB in wordpress post.
IMDB Profile Widget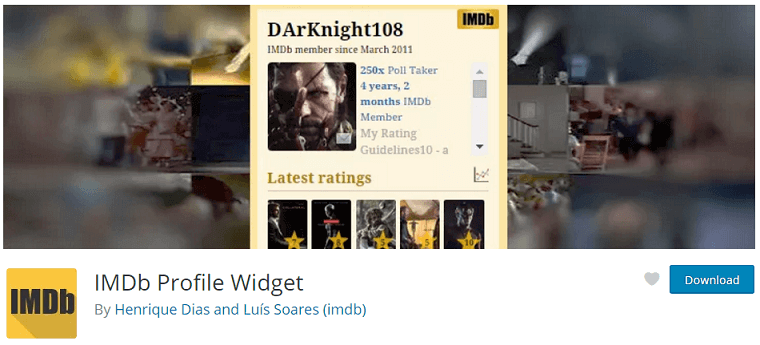 This is a simple plugin which gives you a widget to show your IMDb profile in your blog. It's very simple to use. You just have to put your IMDb user id.
Some Other IMDB Plugin For WordPress From Directory
IMDb Easy Movie Embed (IEME):  A plugin for inserting movie details into your posts. Inserts short movie info in your posts (poster, title, directors, actors, runtime, short review (plot), trailer).
IMDbScraper : Gives you the list MOVIEmeter that can be found on http://www.imdb.com/chart/. Contains the most popular movies right now. The plugin cache data and the files is put in the cache map that can be found inside the plugin.
FilmGetter : Filmgetter gets the information from TMDb about a movie you have choosen. Adding it to the database and you can now use it's information with using the tags defined below. It will write out the information about the movie you want.
Premium IMDb Plugin
IMDb for WordPress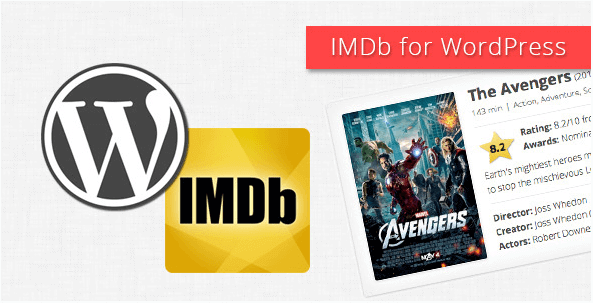 The IMDb for WordPress plugin allows you to display movies, series and actors via your editor or make use of the Widget.
Use the imdb shortcode inside your editor and it will be converted magically into a stylish movie/series/actors box.
Translated data for movies and tv shows (English, German, French, Spanish, Russian, Turkish, Polish, Portuguese and Dutch)
Display actors
Including a Widget for output within your sidebars
Responsive Design: Optimized for tablets and smartphones
Choose from different styles
Enable and Disable certain functions via settings page
Additionally customizable by using CSS
Automatic updates via your WordPress dashboard
Structured configuration page of an easy configuration
No expert knowledge needed!
WP IMDB Automator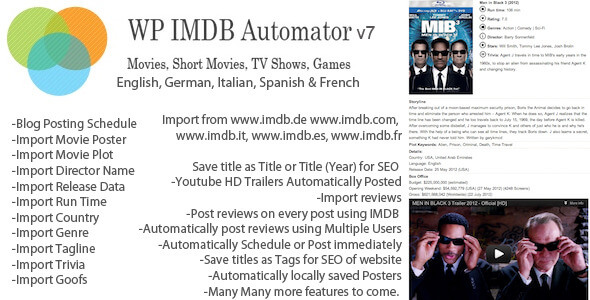 This plugin automatically does IMDB Search, Scrape, Import & Posting on the blogs and can scrape MOVIES, Short Movies, TV Shows or Any Genre & Any Year. Only real WORKING WordPress Movie Plugin that is available to automate and monetize your movie website. You will quickly realize that our WordPress IMDB Movie Plugin is your ONLY chance to make your own MOVIE website within 10 minutes truly monetize your website and customize the entire plugin to your liking!